People & Organizations
In Copper we've simplified things by referring only to People and Organizations, rather than Contacts, Users, Groups etc. People refers to any contact or user within the system, and Organizations refers to your organization, any client, or group of people. Easy. To set up your People and Organizations within Copper (including their access), click on the People icon in the main menu.
Adding People and setting their access
A Person in Copper is usually a user that can log in, but you can also set up non-login people that you just want to keep track of (only users that can log in count toward your user restriction).
To add a new Person, click People in the main menu and select "Add a Person, which will show you a new Person form to compete. Add the Persons details, avatar, role (as set up in Roles in Settings), select a password, and set a default module for them to see when they login. You can also set if they can log in, whether they should receive email notifications, and if you're an admin you can set them to be an admin user too. Once you've clicked save you can also set the access privileges for this user. Giving a user access to an Organization automatically gives them access to all of the Projects that the Organization has access to, or you can give them access to one or more individual projects. Remember if you only wish them to have task access (e.g. you do not wish to give them full Project access), you simply add them to tasks in the tasks area.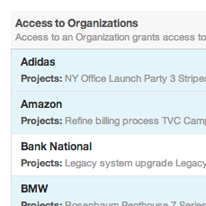 Adding Organizations (Clients and Groups)
In Copper every Project belongs to an Organization, which is simply a group of people. So Organizations can be treated as internal departments, clients, team groups, or your own organization. To create a new organization, click on the People icon in the main menu and click "Add an Organization". A new Organizations form is shown, allowing you to add the Organization details, a logo, select a default color for Projects created for this Organization, and set a status. The status is usually "Active" but Organizations can be set to Archived. Finally click Save. Once the organization is saved you can see its access privileges, and anyone with access to the Organization will also have access to it's Projects.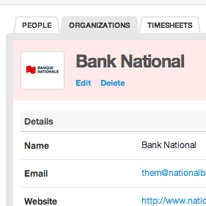 Deleting People and Organizations
To delete a Person or an Organization, go to People or Organizations list and click on their name. In the Person or Organization page, click "delete" under their title. Note that deleting a person will retain their comments and time as "anonymous", however deleting an Organization deletes its Projects and is irreversible so it is advised to instead Archive an Organization.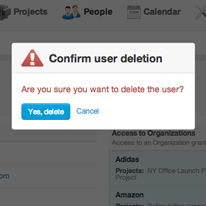 Creating Timesheet Reports
Go to the People section and click on the Timesheets tab. Select a time period to show or a date range and then select one or multiple users (option + click), followed by GO. The users Name will appear along with the date of hours worked and which tasks / project it was for. From here, you can export to CSV.