Getting Started – Copper Tour & Help
Follow the steps below to get started using your Copper account.
Logging in
Enter your Copper web address into your browser and you'll see your login screen. Enter your username and password as provided and click Login or press Enter.
If you've forgotten your password, from the login screen click the 'Forgotten your password?' link, enter your email address and click submit. Copper will send the login and password to the matching email address.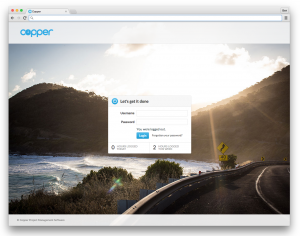 The Main Menu
Once you've logged in you'll see the main menu and your default screen. Rollover any of the main menu items to see a description of that section, a range of options, and any recently accessed items. Click on the menu item to visit the To Do, Projects, People, Calendar, or Settings sections.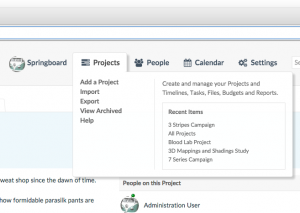 ---
Adding People, Projects, and Tasks
Now you can start adding your People, Organizations, Projects, and Tasks.
Using the draggable project timeline, plot your project and its tasks to get an instant picture of what lays ahead. Then use that same plan to execute the project with your team.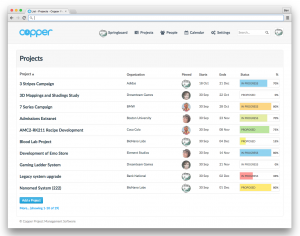 ---
Search
Also in the main menu is the quick search box. To find something within Copper just type in this box to see an instant list of matching items. Click on one of the search results to take you directly to that item.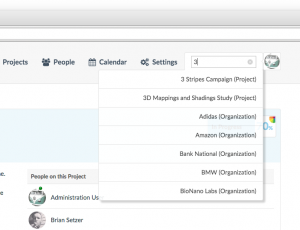 ---
Profile Widget & Stopwatch
At the top right of screen is the multifunction Profile Widget, which shows your Avatar. Click this to expand and see the hours you've logged this week/month. It also includes logout and profile links, and when a Timer is running will show the current Time elapsed and allow you to log your time and comments on the Task.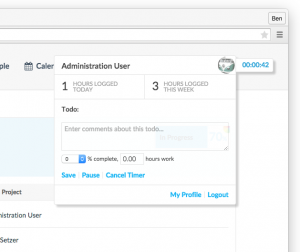 ---
The Day-to-Day Best Practice
Working with Copper will become second nature, but here are the broad principles that you should keep in mind as you start to migrate more of your projects into your new system.
1. Add the project and the tasks required to complete it
2. Add the estimated hours required for each task
3. Add workers to tasks, and Project managers to Projects
4. Tell your team its ok to Pin the Person most important at the current time
5. Have your team complete the work and add their hours and estimates for % complete.
As you progress, your project managers can review the hours Estimated and Logged (Actual) along with the % complete, and tweak and manage timelines accordingly.